Social Media Director

Clara Fong is your typical daydreamy teenager, who has big goals but doesn't know how to get there. The Vancity (Vancouver, Canada) girl was raised in Hong Kong and moved to Singapore when she was 10. Although she enjoys reading and helping others edit their work, she decided to apply for the director of social media position since communicating with people is one of her strengths. There are a variety of activities that interest Clara, and she often finds it hard not to try and do everything at once, but fencing is one activity that she has decided to commit herself to. In her free time, Clara enjoys reading, photography, and learning about current events or humanitarian issues.
Powered by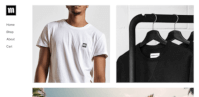 Create your own unique website with customizable templates.